SOS Children - Our visit to a village - by Sarah Kuster
After cycling and sailing over half the world for the past 12 months we have arrived in the Maracaibo province in the city of Porto Ordaz to visit our first SOS Children Village. It feels really strange to be here after such a long time, this visit means so much to us. Jairo the director of the village, has welcomed us with open arms and, with great relief, a cold drink... we are really sweaty and very tired.

He is showing us around the 'village'. A community of seven fine houses in a clean green garden with a plaza where a monument of Hermann Gmeiner the founder of SOS stands proud. The village is still under construction with 3 more houses being built and also a new school. Jiaro explains over breakfast, in one of the houses, that the village is going to be able to give 100 a children a home and a future.

Each house has one godmother and caters for 10 children where they grow up with an education and full medical care. We learn that there are so many children living lost on the streets here in Venezuela, with little help from the government. SOS relies mostly on the funds from outside countries.

We are later shown the new attractive brick-built Kindergarden five minutes from the village which offers help to all single mothers. In Venezuela too many mothers have to bring their children up alone. The facility provides mothers with a place they can leave their children to play and learn whilst they go to work and where they can get medical care and meals. It has a smart administration area with modern computer equipment, big playrooms, a lunchroom, spotless bathrooms, a fully equipped doctors-room, dentists room, baby-room and a big garden with a playground. The mothers are also given free information about hygiene, health and food.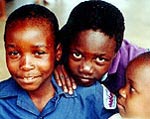 I learn from Eva who runs SOS Venezuela, that there are several new projects to help children further in Venezuela. In Maracay, a new kindergarden for 120 children and their mothers. In Caracas, work on a new SOS Children village has started.

We've so much respect for all the hard work, Eva, Jiaro and all the staff at SOS are doing both here and in all the countries world-wide and how much every little helps. It costs about £10 to provide a facility for one child for one day.

So much help is still needed and now we call on you to help us help them. If you could sponsor us by the kilometres we are covering; for a penny a km, a penny every 10km, a penny for every 100kms, whatever, it will all help.

If you are interested in sponsoring by the kilometre contact me at niel@motivate-u.com or for a direct donation visit SOS direct on www.sos-childrensvillages.org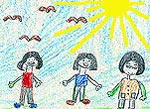 SOS Facts
Worldwide there are more than 40,000 children living in 439 SOS Children's Villages.
Per continent, that is:
Africa: 10,218 children in 107 SOS Children's Villages
America: 9,894 children in 111 SOS Children's Villages
Asia: 16,551 children in 126 SOS Children's Villages
Europe: 5,640 children in 93 SOS Children's Villages
Oceania: 78 children in 2 SOS Children's Villages
The SOS Children's Villages at the highest altitude are currently
in PotosÌ (Bolivia) and Lhasa (China) at 3,900 metres above sea level?
The largest SOS Children's Village in the world is in Dharamsala in India?
The facility has a total of 43 family houses, which are home to children who have fled from Tibet.

The largest SOS Children's Village in Europe is SOS Children's Village Wienerwald at Hinterbr¸hl near Vienna, with 28 family houses and a number of supporting pedagogical and therapeutic facilities.

The southern-most SOS Children's Village in the world is at Puerto Varas in Chile, roughly 1,000 km further south than the southern-most point of Africa.

The most northerly SOS Children's Village is at Kandalaksha in Russia. It is almost in the Arctic Circle.

The country with the most SOS Children's Villages is India. It is home to no fewer than 32 SOS Children's Villages (of which 8 are for exiled Tibetan children).

For more information please visit www.sos-childrensvillages.org

Thank you
Sarah and Niel