Our proposed route will take us overland climbing mountains and across the oceans without relying on motorised transport with an open mind to what ever challenges pop up

.



We are currently embarking on the South American part of out journey, over 13,000 kilometeres from the Caribbean coast of Venezuela to Tierrsa del Fuego - Southern Patagonia. A full itenerary of this route is available as a .pdf document.





download itenerary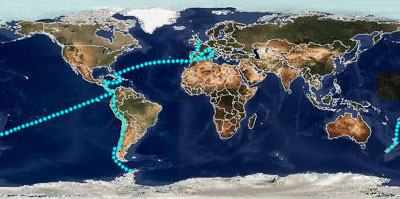 For a more detailed mapping facility visit the National Geographic Map Machine.


Proposed Route:

Europe
- United Kingdom/France/Switzerland/Italy/Spain/Portugal

Mediterranean Countries
Canaries
Caribbean Islands
Central America
Belize/Honduras/Guatemala/Nicaragua/Costa Rica/Panama

South America
Equador/Peru/Bolivia/Chile/Patagonia

Antarctica

Pacific Islands
Galapagos/Easter Island/Hawaii/French Polynesia/Cook Islands/Tonga/Fiji/Solomon's/New Caledonia

New Zealand